Australia's largest rural catalogue with guaranteed delivery to over 600,000 Roadside Mail Boxes every quarter via the Australia Post network.
"Farmer Direct is the ONLY consistently print advertising that we've done in past 6 years, that we know works EVERY time for our rural customers. We know it works, because the phone begins ringing early the same day and several days after its distribution and our customers tell us they saw our ad in Farmer Direct. Farmer Direct is trusted and consistent. That builds trust with our clients and therefore our brand."
Suzi Mould
Australian Concrete Posts
"At Enmach, we have advertised in Farmer Direct consistently for over 7 years and have found the publication reliable and successful in getting our ad right into the hands of our target market. The sales team always know when a Farmer Direct publication hits the mail boxes, the phones start ringing."
Jon Bowder
Enmach
"Our advertising results from Farmer Direct have been well above our expectations. It's the best value advertising that we have done."
Peter Boulton
RAT Barrow
"As a first time advertiser, we have been very impressed with the service we have received and the assistance with our ad. We have had a wonderful response to our ad and have had a number of orders for our product directly from our ad."
Lyn Slade
Rural and Outback Trailers
"We are very happy with the advertising campaign run by Farmer Direct. We have received lots of calls, which is great. Thanks again for all your help and we will be advertising again!"
Carol Freedman
Terry Miller Concrete Tanks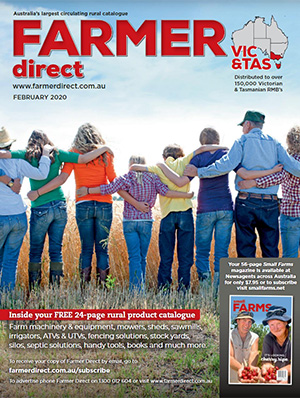 Why Advertise with Farmer Direct
National Distribution
Australia's largest circulating rural catalogue with guaranteed delivery to over 600,000 Roadside Mail Boxes every quarter by the Australia Post network.
Great Results
Direct mail is one of the most reliable means of product marketing in the country today with unmatched ability to advertise directly to Australia's rural customers.
Established Trust
Published for over 15 years Farmer Direct has achieved wide reaching customer recognition and trust.
Cost Effective
A fraction of the cost of distributing your own direct mail campaign. Free advertising design available.
Why Direct Mail Catalogues Work
of all direct mail is opened
of Australians aged 14+ read catalogues in an average four (4) week period
of those who received direct mail retain it for future reference
Request Advertising Rates
Expand your reach from as little as $6.50 per 1,000 catalogues delivered to your target customers
Enter your details below to receive a copy of the Farmer Direct advertising rates:
Contact Farmer Direct
For all advertising enquiries please call us on 1300 012 604
Farmer Direct & Small Farms Magazine
PO Box 204, Shepparton VIC 3632
7940 Goulburn Valley Hwy, Shepparton VIC 3630
ABN: 50 117 547 190
Target lifestyle and hobby farmers with advertising in Small Farms Magazine